Conveyor Benefits
The Archimedys screw auger makes significant improvements to screw auger design and manufacture.
Excentys has designed a new screw auger. Standard modules are quickly assembled into large, unique screw augers for hexagonal axles. The screw auger conveyor can be modified by mixing different standard auger modules on the axle.
This ingenious feature to optimize flange or ending function is brand new. The auger itself is pre-existing technology, but this modular design is brand-new technology.
Due to the special plastic material the augers have a slick-surface and are durable, meaning bulk material doesn't stick to the auger. The low friction and torque conserves energy. Cleaning and maintenance is quick and easy. There is no need for the difficult and time consuming operations such as burning or welding. As an added bonus, the flightings are naturally resistant to corrosion and chemicals.
Industry, food-industry, cleantech, pharmaceuticals, mining industries...
Contact us to request an estimate. Exventys technical support will help you calculate auger output requirements and help with the design.

Screw auger production and maintenance
Quick to produce.
Quick maintenance: only necessary to replace damaged or worn modules.
Maintenance requires no burning or welding.
Welding-free production.
Improved operation
Improved rotor spin against the conveyor's lining. No more intermediate bearings needed on long screw in many applications.
Excellent balance allowing high speed operation.
Screw auger conveyor modification

Specialized profiles are possible for any conveyor application, for example, see the grape sorting auger.
Varied inclines are easy to produce: for example, slow-fast-slow.
Ø50 mm minimum,
Ø1000 mm maximum
Conveyors can easily be modified after assembly by replacing modular flightings.
Ecological design
Energy saving by reducing the motorization strain and torque.
Environment-friendly noise attenuation while operating.
No need for a poisonous sandblasting or polyurethane coating in order to protect from corrosion from toxic metals.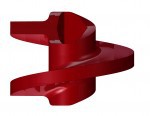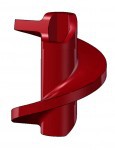 Endurance
Strengthened abrasion resistance. Lab tests has shown up to three times more wear resistant than construction with steel in certain applications.
Due to special plastic material flightings are naturally resistant to corrosion - impervious to a wide range of acids, caustics and other chemicals.
Food safe
Archimedys screw auger material is found food safe under FDA approval and European regulation 1935/2004 approval. Sertificate for Europe you will find here
Slick surface simplifies cleaning.