Assembly & Design
Archimedys screw augers are assembled by connecting standard module flightings onto a hexagonal axle. The assembled auger can be locked into place in one end with a screw or a nut, and the other end connected onto a support. Standard modules include the flange and/or final module, and an open ending module.
Changing the incline to slow down or speed up conveyance is easy.
Each user can customize the flange or ending to their individual need. Some examples are below.

Extra movable end shaft with a key pin or bolt: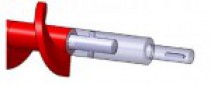 The drive shaft is machined directly.


Module fixation is done with a screw.

Metal parts and standard hexagonal axles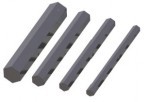 Hexagonal shaft are the core of the modular Archimedys' screw. Different dimensions are available. The shaft standard length is 3m. Metric standard steel and stainless steel hexagon are available anywhere in the world.
Standard stock length is 3 meters. Contact your steel supplier for more details on different lengths.
| | |
| --- | --- |
| Screw with two flanges. Input and output are perpendicular to the screw axis. Short pitch at the entrance ensure a regular troughput with 50% max screw filling | |
| Screw with one flange and ending, feeding is perpendicular to the screw axis and the output can be in the direction of the screw or perpendicularly to it. Short pitch at the entrance ensure a regular troughput with 50% max screw filling | |
| Screw with one flange and ending, feeding is perpendicular to the screw axis and the output can be in the direction of the screw or perpendicularly to it. As no feeding modules are at the entrance, care must be taken to avoid over filling and torque peak dammgeable for the conveyor | |
| Screw with two flanges. Input and output are perpendicular to the screw axis. As no feeding modules are at the entrance, care must be taken to avoid avoid filling and torque peak dammgeable for the conveyor | |
| Classical screw design with constant pitch. As no feeding modules are at the entrance, care must be taken to avoid over filling and torque peak dammgeable for the conveyor | |
| this particular configuration with only short pitch is used when inclination is over 70°, vertical elevator or dosing screws. | |
Build yourself an Archimede screw by stacking standard flightings